TRINIDAD on SHOWTIME
Catch Trinidad on Showtime!
On SHO 2 06/27/10 at 4:45 PM
On SHO SHOWCASE 06/29/10 at 2:35 AM
On SHO WOMEN 07/01/10 at 1:05 PM
On SHO WOMEN 07/13/10 at 10:00 PM
LOGO Broadcast Premiere!
TRINIDAD will have it's LOGO broadcast premiere on Saturday April 24th at 8pm EST/PST and 7pm CST.
Please tune in and tell your friends!
MTV's Real World
So MTV finally put a Transperson on their show The Real World, and the reviews are saying that this season compares to the "The Love Boat" in regards to excitement.  I can see that.  The world, especially the young world, does not see what all the drama is about regarding LGBT people and their lives. Many are raised to be accepting and loving of all people. In addition, the LGBT community has become way more accessible.  Ellen DeGeneres and RuPaul are known to most young adults as successful out queer people.  Rosie O'Donnell is another.  Is it such a wonder that the subject is actually becoming boring?  It is what we have been working for a a community for decades.
Pope Benedict speaks out
A friend sent me this news regarding the Pope:


Sent: Tuesday, December 23, 2008 7:40 AM
To: Sabrina Taraboletti
Subject: Pope Benedict speaks out against homosexuality and 'Gender Theory'
Pope Benedict XVI says saving humanity from homosexual or transsexual behaviour is just as important as saving the rainforest from destruction.
The pope used his traditional end-of-year speech to say a few words about what he considers the important issues of the day. In a world where the practices of greedy bankers and corrupt financiers have forced the global economy into recession, and the insane policies of evil African dictator Robert Mugabe have caused the outbreak of a cholera epidemic and driven his own people to the brink of starvation, the 81 year old pontiff felt an attack on homosexuality and transgenderism was the best way to make use of his end-of-year address to senior Vatican staff.
Read the rest of this entry »
Prop 8 Passing
Prop 8 Passing…
They just legalized discrimination in California and other states that added to their constitution words to the effect that a Marriage can only be between one man and one woman. How is this protecting any existing marriage or even the sanctity of marriage? If we are going to get all Christian, and I am, how is divorce then OK in the present law? Divorce as a principle and a practice certainly goes against the sanctity of Marriage and there are even Bible quotes stating so. I think this is a terrible setback for the LGBT Community and we must all continue the fight to reverse these laws.
Thoughts on Thomas Beatie
Thoughts on Thomas Beatie…
The question Thomas Beatie asks society is what makes a man, and what makes a woman. The answer is many things in the eyes of present society, which is why they find Thomas both a curiosity and disturbing. A Vagina is part of what makes a woman, as is the ability to bear children, but woman don't have facial hair, a lack of breast, and they are typically named something different than Thomas.
Read the rest of this entry »
Sabrina Goes to Congress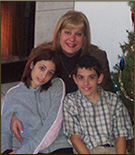 Sabrina goes to congress for transgender rights.

The 26 June 2008 HELP Subcommittee hearing, "An Examination of Discrimination Against Transgender Americans in the Workplace"
You can watch the YouTube video.